Many organizations will create a request for proposal (RFP) to invite agencies to bid on their website design and development project. Unfortunately, many RFPs drive away exactly the kind of agency that the organization wants. We've seen thousands (really, thousands) of RFPs over the years. Some are really great. Many are not.
So we created the RFP that we'd want to receive. This is an RFP that provides the critical details required for us to understand the project, evaluate if we're the right fit for the project, prepare a proposal, and an accurate estimate of costs.
This Model Website RFP Template was created in collaboration with several leading digital agency owners and marketing staff to provide a concise, easy-to-modify template that will help your organization think through your website project and present it in a way that will help you find the best agency partner. The template includes reusable sample content for a fictional organization called the "Vista Grove Company."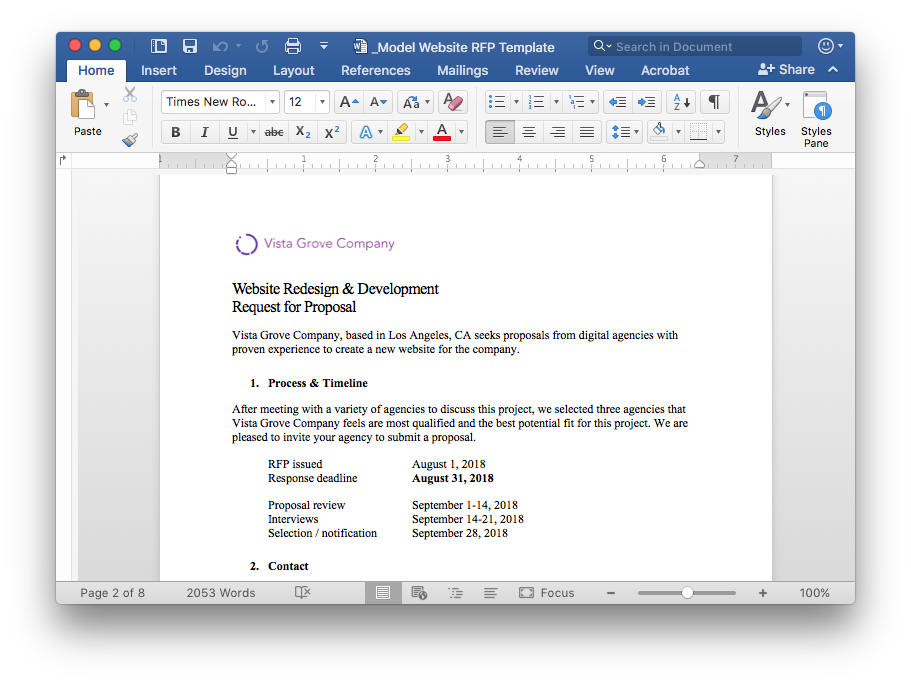 Our goal with the Model RFP Template is to help make requests for proposals (RFPs) a little bit better and to help organizations think through the questions that an agency will likely have, in order to prepare the best possible proposal.
Get the RFP Template
You can download the Model RFP Template in Word and PDF format for free. (Full disclosure, we do ask for your name and email address to follow-up with you once in a while.)
The Model RFP Template is short, at 8 pages, but includes 17 sections for you to consider including in your RFP. Each section includes samples and reusable content. If a section in the Model RFP doesn't apply to your project or need, delete it. 
The 17 sections, along with sample content include:
Process and Timeline
Contacts
Project Goals and Description
Budget Range
Audiences
Project Requirements (23 requirements we see in many web projects)
Website Analytics
Current Environment
Hosting
Support
Responsibilities
Timeline
Insurance Requirements
Contact
Proposal Submission
Evaluation Criteria
Of course, we welcome your constructive criticism and feedback. Your thoughts will help us improve this tool for the mutual benefit of the website design and development community, and the agencies that serve it.
We look forward to hearing how you are using the Model Website RFP in your organization.