Is your cultural arts organization using its website and digital technology as effectively as possible? 
Is purchasing tickets or becoming a member online an obvious and delightful experience?
Can you view the historic purchases made by each visitor or member?
Can members log in and update their profiles on your website?
If you answered "no" to any of these questions, you're missing out on visitors and you're leaving money on the table. 
The digital experience for cultural arts organizations is now central to how visitors and patrons view your brand. Collections are moving online. In-gallery experiences are leveraging the Internet and mobile devices. Visitors seek social share-worthy experiences. Potential visitors examine curated online offerings before deciding to visit.
Visitors expect an elegant online ticketing-purchase experience. The ticketing experience must integrate the website or mobile app and the on-campus visits. Members and donors expect to be able to log in to the website and take advantage of membership benefits and discounts.  On top of these expectations, your solution needs to be integrated, secure, and mobile-optimized to successfully implement a truly user-friendly digital experience optimized for conversions and revenue.
Most websites for cultural arts organizations are not equipped to meet these demands. This is where Tessitura Ticketing Software becomes necessary.
What is Tessitura Ticketing Software?
Tessitura ticketing software delivers these capabilities to help create a powerful digital experience for your visitors. Tessitura's web integrations allow you to connect your website to the powerful Tessitura ticketing, fundraising, and CRM software.
Tessitura is a unified software system to help you run your cultural arts organization. Tessitura provides ticketing software, customer relationship management software, marketing tools, and detailed visitor and donor analytics. In this article, we will review the two primary technical approaches used by Tessitura's ticketing software to sell tickets, general and timed admissions, memberships, donations, subscriptions, and custom packages.
Seven nonprofit arts organizations created Tessitura in 2001 to license software custom-developed for the Metropolitan Opera. Tessitura's ticketing software was one of the first products to provide arts and culture ticketing, fundraising, and customer relationship management (CRM) in a unified system. These seven arts organizations founded Tessitura Network as a nonprofit organization with a mission to "enable and inspire arts and culture organizations to achieve their goals."
Since then, Tessitura has continued to evolve and is now the leading software system for cultural and performing arts organizations. As of 2022, over 700 organizations use Tessitura software.
As you might expect, Tessitura primarily works with non-profit cultural and arts organizations. Tessitura serves organizations of varying scales, from 10 to 1,000 users and from 20,000 to 6 million tickets per year.
Tessitura Specialist That Gets Results
Urban Insight is a digital agency that designs and develops websites and digital experiences with cultural arts organizations. Urban Insight specializes in using the open-source Drupal1 web content management system—often integrated with Tessitura software. Urban Insight has had the opportunity to work with various cultural arts organizations to use Tessitura software to sell tickets and memberships, accept donations, and enable members to manage their user profiles and purchase history online. Urban Insight is an approved Tessitura Web Integrator capable of integrating TN Express Web (TNEW) and the Tessitura application programming interface (API).
Learn more about Drupal websites here: Drupal Website Audit: A Checklist.
How Does Tessitura Ticketing Software Work?
Tessitura offers two general approaches to online ticketing: Implementing TN Express Web (TNEW), or integrating the powerful Tessitura Application Programming Interface (API). We'll explore each.
Tessitura TNEW
TNEW is Tessitura's out-of-the-box e-commerce platform, used by around 70 percent of Tessitura's clients. This e-commerce solution lets visitors purchase your products, including tickets, classes, digital content, memberships, and gift certificates. 
Tessitura TNEW Case Studies:
For example, Urban Insight integrated TNEW with the Gilcrease Museum's WordPress website. We styled the TNEW platform to match the Gilcrease Museum site and developed shared navigation. Urban Insight also customized the experience to implement a shopping cart in the navigation. TNEW replaced a previous ticketing software product that was poorly integrated and had usability issues. The TNEW integration raised the professionalism level of the website and made purchasing tickets easier by removing two steps from the previous process.
As part of a comprehensive website redesign for the award-winning National World War I Museum & Memorial, Urban Insight integrated TNEW for the museum and styled the TNEW platform to match the new Drupal 9 website. We developed a navigation system that guides the visitor into the ticketing workflow and streamlines what had previously been a complicated ticketing process.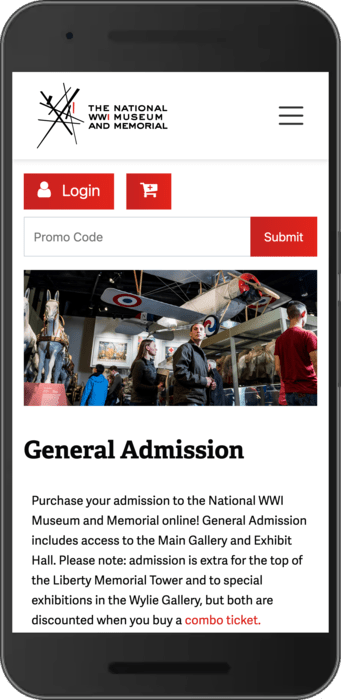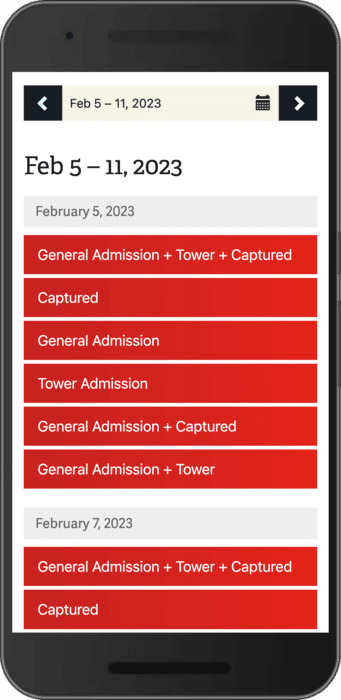 Tessitura Application Programming Interface (API)
The Tessitura API is the next step in complexity. Suppose TNEW doesn't accomplish what you need. In that case, you can use Tessitura's API to design a custom web approach—or customize specific aspects of the customer experience—while still leveraging the Tessitura system for all its advantages.
API Case Study: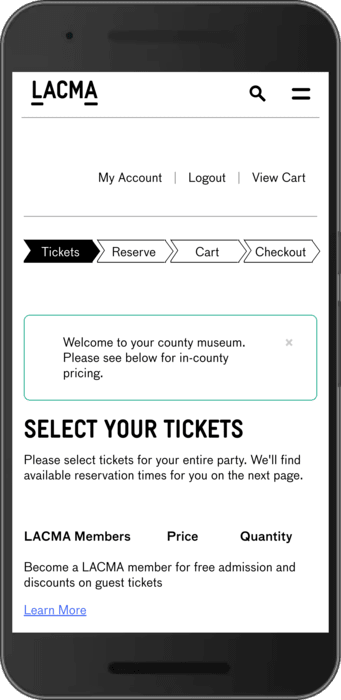 For example, when the Los Angeles County Museum of Art (LACMA) would release tickets to hugely popular events, the crush of visitors to the website would cause the previous ticketing system to become sluggish and unresponsive. Urban Insight and LACMA adopted an on-demand cloud computing platform through Amazon Web Services to provide a custom ticketing workflow capable of handling thousands of concurrent visitors and hundreds of concurrent ticket purchases. The checkout process was integrated with the museum's calendaring system and relied on Tessitura ticketing software using Tessitura's powerful API to manage the flow of tickets.
This system gives LACMA the confidence to scale ticketing sales to a virtually unlimited number of visitors while decreasing hosting costs by over 43% of the previously managed physical server configuration. Read more about Tessitura in action on LACMA's website. 
All data in Tessitura is accessible to the API, from customer data and membership history to featured events, exhibition details, and every type of transaction. However, integrating the Tessitura API often requires significantly more effort and expertise and is often more expensive to develop.
Tessitura CRM Software
In addition to ticketing, Tessitura enables sophisticated customer relationship management (CRM). The Tessitura CRM software provides a complete view of everyone interacting with your organization: Visitors, members, donors, volunteers, groups, and class attendees.  Tessitura's customer history includes every interaction, communication, ticket purchase, contribution, membership, and more. 
Importantly, the CRM software is integrated with the Tessitura ticketing software so that members and donors can log in to see membership information, past purchases and contributions, receive discounts, and set preferences and interests.
Is Tessitura for You?
Having worked with Tessitura for over 10 years, we at Urban Insight have helped a variety of cultural arts organizations adopt Tessitura as their first online ticketing software and CRM platform. We have also helped even more organizations migrate from a proprietary ticketing system to Tessitura. From these experiences, we've observed the following trends:
When customization is required, Tessitura offers the Tessitura API to enable customization (albeit at a cost). Proprietary systems are difficult or impossible to customize.
Tessitura's integration among different software components (CRM, ticketing, admissions, fundraising, memberships, e-commerce, marketing, etc.) tend to be reasonably well integrated since the software is designed for cultural and performing arts. Integration among components from competing proprietary systems tends to be challenging since many components were acquired as separate products and subsequently integrated.
The website integration is only the tip of the iceberg for implementing Tessitura. Most of the effort is in adopting the workflow and systems within the cultural arts organization.
Fees paid to implement and operate Tessitura tend to be lower than fees paid for proprietary alternatives.
Contact Urban Insight to learn how Tessitura ticketing software can help your organization improve website user experience, optimize conversions, and increase revenue.
References