A web-based repository of pro bono opportunities for lawyers in the State of Idaho.
BACKGROUND
Two legal aid nonprofits in Idaho, the Idaho Volunteer Lawyers Project (IVLP), and Idaho Legal Aid Services (ILAS), offer opportunities for lawyers in the state to do pro bono (professional volunteer) work. But each nonprofit had to reach out individually to lawyers to take on pro bono cases. 
THE
CHALLENGE
To make the process of connecting lawyers with a suitable pro bono case simpler and easier, the state needed a single repository that could pool cases from both nonprofits and alert lawyers when new cases were available.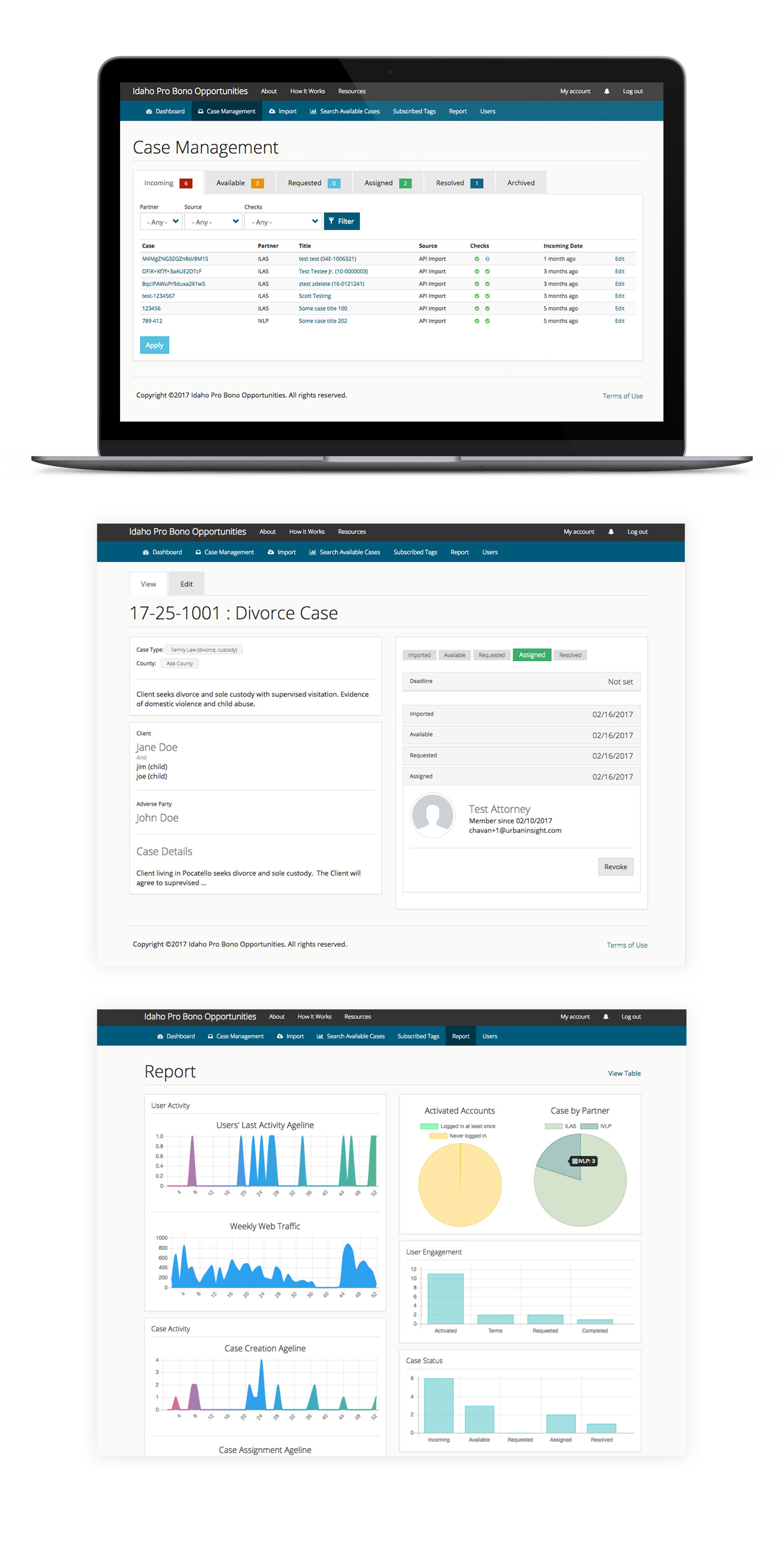 THE
SOLUTION
Urban Insight designed a web-based repository called the Idaho Pro Bono Opportunities Website (PBOW). This transformative system helps people in need of free legal assistance to be matched with a lawyer willing to take on their case, even when the two people may be in physically different locations. The system maps equivalent data fields among nonprofit's case data. Legal aid programs can used an automated system to import legal cases into the nonprofit's own case management system. Lawyers receive email notifications when a case matching their interests become available. An easy-to-use dashboard visualizing system activity allows easy monitoring.
Vist the Idaho Pro Bono Opportunities Website
"Our interaction with Urban Insight has thrived for over several years. Urban Insight has always worked with us in a very professional and friendly manner, and took us through all the steps necessary to complete a very complex Drupal project.  We would highly recommend Urban Insight for your next website project."
— Steven J. Rapp, Technology Project Developer, Idaho Legal Aid Services, Inc.