What Is Drupal? The Background
Drupal is a powerful, valuable, and popular content management system (CMS). Written in PHP programming language, Drupal CMS is widely used for creating and managing websites and web applications. As an open-source platform, a large community of developers and users provide support and suggestions for using and maintaining the platform.
In this article, we discuss Drupal's pros and cons to help you decide if a Drupal website is right for your organization.
Do People Still Use Drupal? 
Of the top 10,000 websites by traffic on the internet, over 9 percent of them are built on Drupal.1 Despite a sometime misconception, Drupal continues to be widely used by organizations of all sizes. And for good reason. 
Its robust features, flexibility, and scalability make Drupal a preferred choice for building complex websites and web applications. With a dedicated community constantly improving and updating the platform, Drupal remains a reliable and trusted CMS in the digital landscape. 
Let's examine which kinds of businesses and organizations may benefit from Drupal.
Who Can Benefit from Drupal?
Drupal is a versatile content management system that can benefit a wide variety of businesses and organizations. Whether you are a digital business owner, a non-profit organization, a higher education institution, a government agency, Drupal has something to offer you.
B2B and B2C Businesses
Both B2B and B2C businesses can take advantage of Drupal's flexibility and scalability. With its extensive range of modules and themes, Drupal allows businesses to create customized websites that meet their specific needs. Whether you want to showcase your products, provide online booking services, or integrate e-commerce functionality, Drupal can handle it all. Additionally, Drupal's robust security features ensure that your business and customer data are protected.
Non-Profit Organizations (including Cultural Arts Institutions)
Non-profit organizations can also benefit greatly from Drupal. With its built-in tools for fundraising and volunteer management, Drupal makes it easy for non-profits, like cultural arts institutions and museums, to engage with their supporters and raise awareness for their causes. Drupal's multilingual capabilities also enable non-profits to reach a global audience for a greater impact.
Higher Education Institutions
With its robust content management capabilities, Drupal empowers higher education institutions to effectively manage and deliver educational content to students, faculty, and staff. The platform's multilingual capabilities ensure that such institutions can cater to diverse student populations and provide a truly global learning experience.
In addition, Drupal's scalability leverages institutions to handle large amounts of content and users, making it ideal for universities with a vast array of courses and programs.
Drupal's flexibility enables institutions to customize their websites and create unique online experiences for students. With its extensive community support and regular updates, Drupal is a reliable and future-proof choice for higher education institutions.
Government Agencies
Government agencies can leverage Drupal's powerful content management capabilities to deliver information and services to their constituents. Drupal's accessibility features ensure that government websites are inclusive and can be accessed by all citizens. Moreover, Drupal's modular architecture allows agencies to integrate with other systems and databases, streamlining their operations and improving efficiency.
Famous Drupal Websites 
Check out Drupal in action on famous Drupal websites developed by Urban Insight.
B2B and B2C Businesses
Kennedy Wilson (B2B)
Kennedy Wilson (NYSE:KW) is a global real estate investment company that owns, operates, and invests in real estate. Urban Insight worked with Kennedy Wilson to enhance the company's global reach by updating its website to Drupal CMS. 
The new mobile-optimized Drupal website features Kennedy Wilson's history through an interactive timeline, enabling fast and easy content discovery via a site-wide search across devices. The company was able to launch an advanced search interface for its property portfolio that enhances its visitors' property-discovery experience.
See Drupal in action on Kennedy Wilson's website.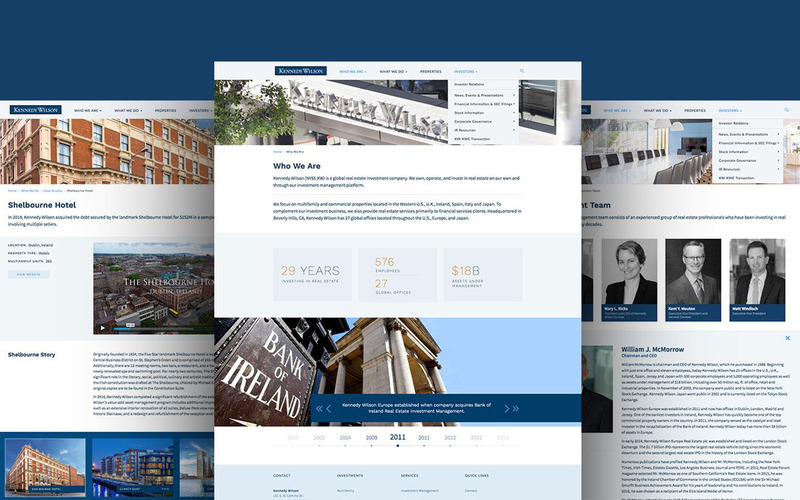 Planetizen (B2B + B2C)
Planetizen is a leading independent urban planning and design platform that creates and curates news stories, resources, and online education and training that reach 91 percent of professional urban planners in the US.
Urban Insight both designed and developed the previous three versions of Planetizen.com using Drupal CMS and open source tools. 
For the newest version, Urban Insight worked with Planetizen to create a website that supports complex editorial publishing needs, an affiliate sales channel, an e-commerce system and online store responsible for thousands of transactions and subscriptions every month, and urban planning's most active employment listing board.
See Drupal in action on Planetizen's website.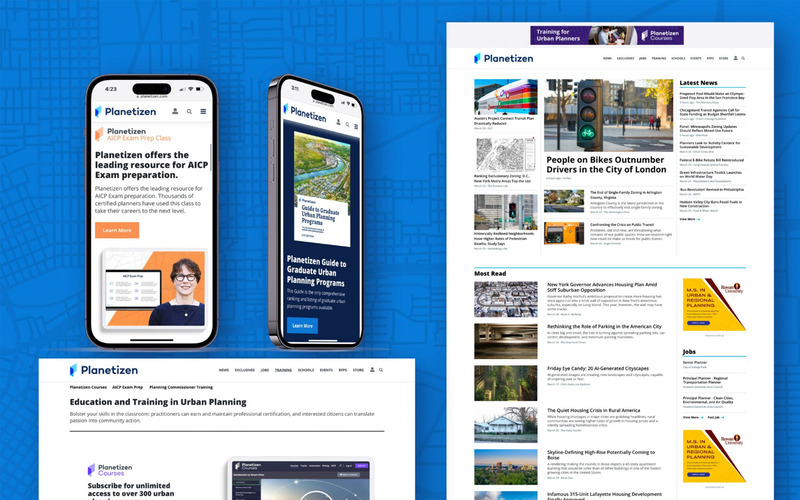 Non-Profits (including Cultural Arts Institutions)
The Broad
The Broad is a contemporary art museum in downtown Los Angeles that offers free general admission, rotating temporary exhibitions, and audience engagement. The museum houses over 2,000 pieces in its Broad collection, considered one of the most renowned postwar and contemporary art collections in the world.
Urban Insight worked with The Broad to revamp user engagement for its Broad collection. Because users typically first experience the mobile website, Urban Insight prioritized mobile engagement and optimized the mobile experience, and integrated a series of workflow tools that enable The Broad team to efficiently update all aspects of the website with news, events, and exhibition details.
See Drupal in action on The Broad's website.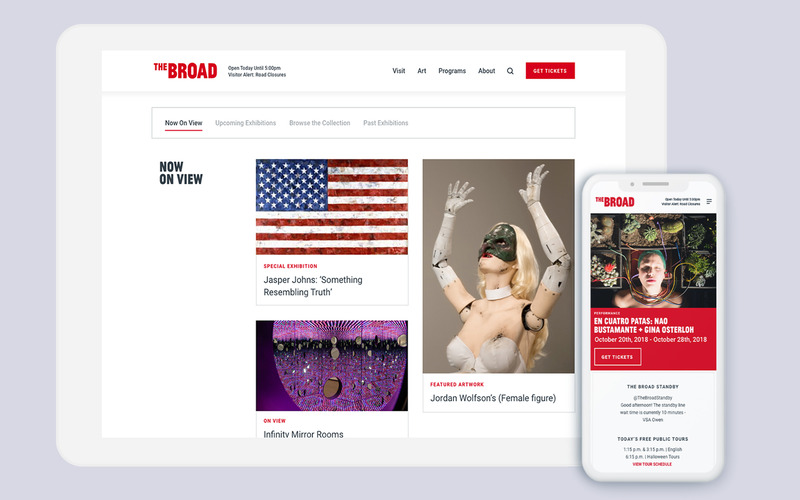 LACMA
Attracting over one million visitors each year, and millions more via its digital programs, internationally-recognized LACMA is the largest art museum in the western US. The museum's collections feature over 130,000 objects, dating from across the globe, from antiquity to present times.
Urban Insight worked with LACMA to migrate the museum's website to Drupal, allowing for superior flexibility, improved interactivity, ease for staff members to add new content, optimized functionality of the website's mobile app, and encouragement of artwork discovery. Visitors can now search LACMA's array of massive collections and immediately access 20,000 high-quality artwork images available for free download and use.
See Drupal in action on LACMA's website.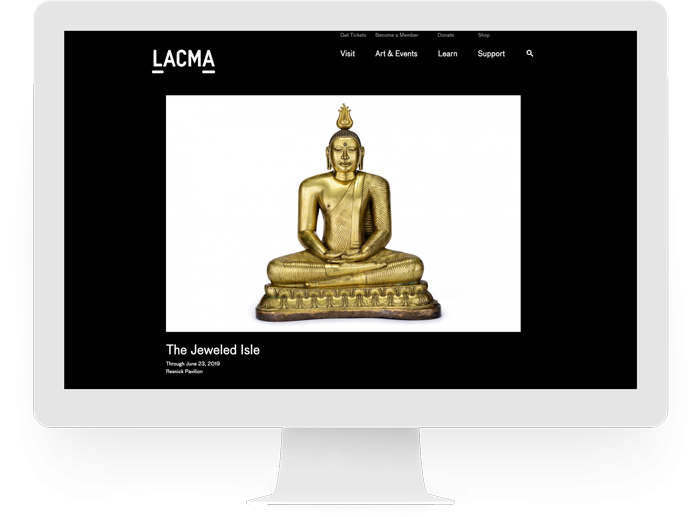 National World War I Museum and Memorial
Home to over 350,000 items, most of which are digitized and on display in its online collections, The National WWI Museum and Memorial is the United States' leading institution dedicated to remembering, interpreting, and understanding the Great War.
Urban Insight worked with The National WWI Museum and Memorial to re-envision and improve the museum's digital representation. To this end, Urban Insight crafted an enhanced and immersive experience for visitors using a responsive Drupal website designed for accessibility for any user, anywhere. The website redesign was awarded the 2022 Gold Philly for Best Website, Large Division.
See Drupal in action on Nation World War I Museum and Memorial's website.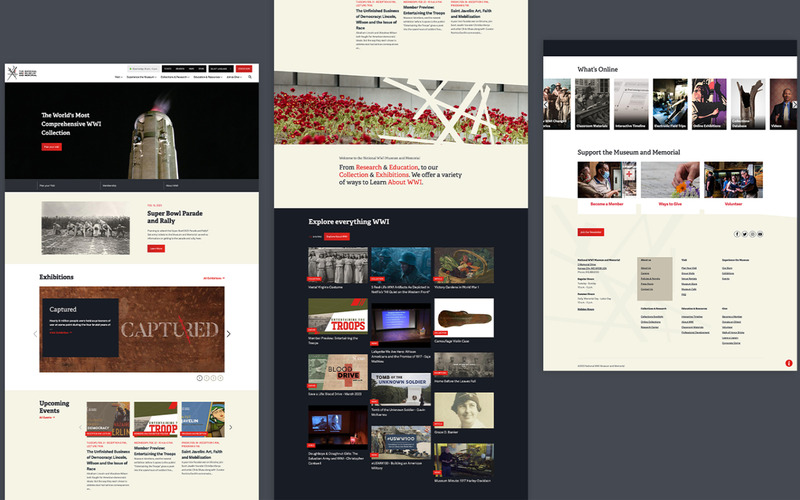 Higher Education Institutions
University of Southern California (USC) 
The Los Angeles-based University of Southern California is an esteemed private research institution. Urban Insight worked with USC's Price School Executive Education team to replace its existing peer review assessment tool for an optimized, tailored user experience. The new web-based 360-degree peer review assessment tool provides customized support for emerging leaders that are committed to professional development and growth.
See Drupal in action on University of Southern California's website.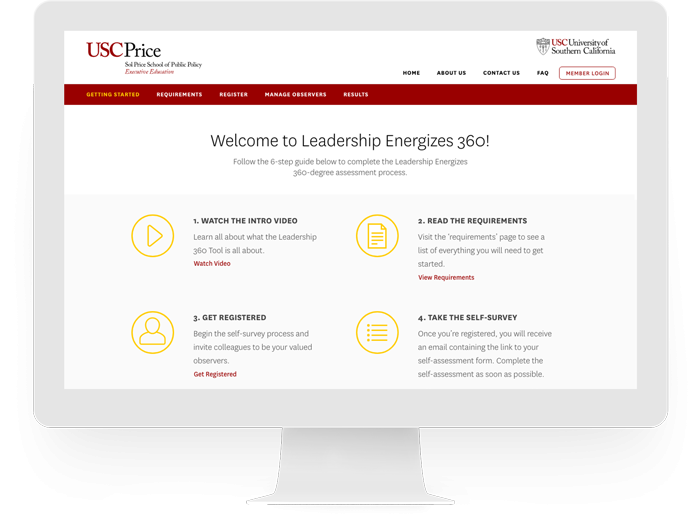 Government Agencies
CalOpps 
CalOpps functions as a job board for public employment, under the ownership and operation of more than 85 public organizations across California, and managed by the City of Foster City. Its purpose is to serve as a unified hub for job seekers pursuing opportunities within the public sector. 
Urban Insight upgraded and optimized the outdated CalOpps platform to a Drupal website 
Through a process of assessment, standardization, and streamlining workflows to allow for the unique requirements of different agencies
By providing job seekers a modern, mobile-optimized user interface and search function that enables an effortless job discovery and application process
By optimizing the system by which agencies use the website to announce job vacancies, receive applications, and manage the hiring journeys unique to each organization.
See Drupal in action on CalOpps website.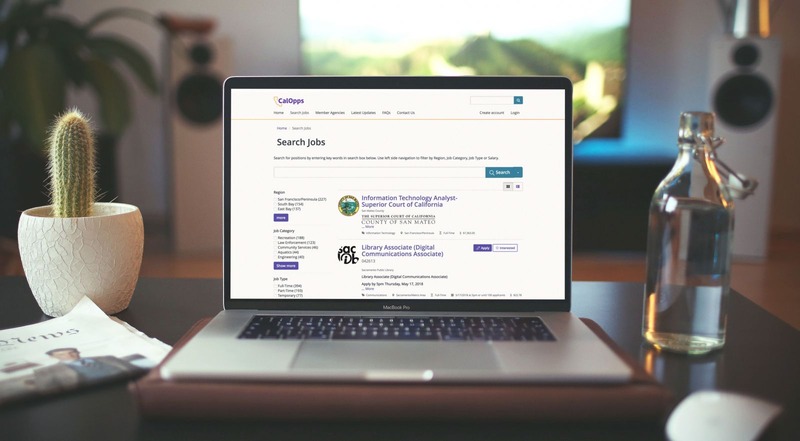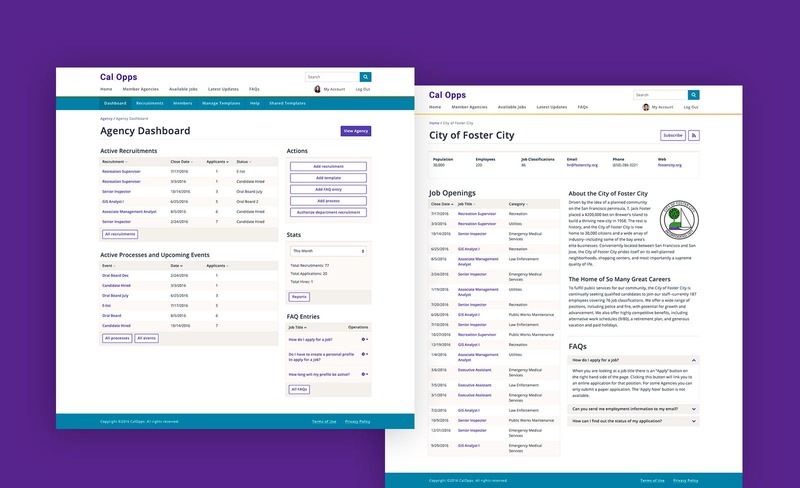 Alternatives to Drupal
Alternatives to Drupal websites should be assessed on a case-specific basis, depending on the project's unique requirements. Each alternative brings its own set of advantages and limitations, so careful consideration of your goals is crucial.
Generally speaking, alternatives to Drupal include WordPress, Joomla, Drag-and-Drop Editors, Proprietary CMS, and Headless CMS. Read on for more about each alternative.
WordPress and Joomla
WordPress
Renowned for its user-friendly interface and extensive plugin ecosystem, WordPress powers a significant portion of the web. Its vast theme library and adaptable architecture make it a go-to option for bloggers, small businesses, and content-focused websites. However, for more complex functionalities, additional plugins might be necessary, potentially affecting website performance. 
Joomla 
With an intuitive interface and a robust extension ecosystem, Joomla is well-suited for medium-sized websites. While not as complex as Drupal, it offers versatility and ease of use, making it a practical choice for projects that demand a balance between functionality and user-friendliness.
Drag-and-Drop Editors
These intuitive tools, like Wix or Squarespace, cater to those seeking a hassle-free website creation process. Ideal for beginners, they offer pre-designed templates and straightforward customization. Yet, they lack the flexibility demanded by larger, intricate projects, and for organizations that place an emphasis on site performance and SEO.
Proprietary CMS
Some enterprises opt for custom-built content management systems tailored precisely to their needs. While this route offers unparalleled control, it can be resource-intensive in terms of development and maintenance costs. Website owners will end up dependent on whichever party originally built it. Lastly, a proprietary CMS is not open source like Drupal and is not, therefore, able to be continuously improved in the same manner through the work of other organizations and developers using the platform.
Headless CMS
A Headless CMS, or Decoupled CMS, provides many benefits to a traditional, monolithic CMS like WordPress or Drupal. The primary benefits include enhanced security, performance (resulting in better SEO), and user experience. However, Headless CMSs are the most expensive to develop, and these CMSs, like Storyblok or Strapi, are well behind the most common traditional CMSs like Drupal and WordPress in terms of features and functionality. Furthermore, both Drupal and WordPress can be developed as Headless CMSs, leveraging a more modern front-end, like React, Next.js, Gatsby, or Angular.
Remember, the choice of an alternative hinges on your website's goals, complexity, and future scalability requirements.
Pros of Drupal 
Below are some of the most important reasons to choose Drupal CMS.
Open-source platform
Large user community to support website development (support on drupal.org2, stackexchange.com3, and other websites)
Regular updates 
Strong security (updates are foolproof, systematic, timely, and thorough)
Accessibility prioritized
Multilingual capabilities
Robust platform (i.e. compared to a simpler CMS like Wordpress, Drupal offers better features to develop more complex websites; Drupal is often considered a "Developers CMS," and WordPress is an end-user/content manager CMS)
Robust support for content moderation, workflows, and revisions
Extensibility (other features/web apps can be built on top of it, like a ticketing platform, galleries, donation platform, e-learning platform, and any custom feature or integration)
Allows for rapid prototyping 
Can be scaled well (it can handle large volumes of traffic as the site grows)
Can serve as an API of its own (in the case of headless websites)
Mobile-friendly themes
Multisite feature (allows for separate sites to be built off of the same code-base)
Cons of Drupal
In some cases, the below factors may make an alternative to Drupal a more ideal choice.
Steep learning curve (not a user-friendly interface for non-technical users; however, with the right development the admin interface can have a much improved user experience)
Written in code (Drupal is not the CMS for you if you want to build a simple drag-and-drop website without the support of a development team; popular CMSs, including Drupal and WordPress, are written in the programming code known as PHP)
Nonstandard tech support (answers must be crowd-sourced from an open-source community, and you'll likely need a Developer or team to maintain, upgrade, support the website)
Previously, major updates could require significant effort (Drupal 7 to Drupal 9 (or 8) required extensively rebuilding the website and code, but from Drupal 8+, the update process has become much more streamlined; it still requires a developer but is no longer as massive of an undertaking)
Excessive memory consumption (can consume a lot of resources if not tweaked and developed properly, making for a slower page load time and negatively impacting user experience)
Contributed module compatibility can be an issue in the case of large websites (integrating many contributed modules can lead to intricate dependencies, performance issues, security vulnerabilities, customization challenges, and potential maintenance problems for large Drupal websites)
Limited modules (unlike the vast quantities of plugins available for WordPress websites, Drupal modules are not as abundant; however, the open-source community continues to contribute and maintain modules)
Few themes in free access (while this is technically true, selecting Drupal CMS typically indicates a business or organization that wants a custom-built website, so ultimately this isn't a problem; if you do want to use a theme/templatized website, then WordPress may be a better, more appropriate solution)
Drupal Web Design and Development: Crafting Your Digital Presence
When delving into Drupal pros and cons, the role of a skilled web developer becomes pivotal. At Urban Insight, our team of experienced Web Developers specializes in navigating the complexities of Drupal or other more suitable alternative CMSs to tailor solutions for your unique needs, and create seamless and dynamic websites. Collaborate with Urban Insight to unleash your website's full potential and optimize your online presence.
Is Drupal the ideal CMS for your project? Contact us at Urban Insight to discuss if Drupal is right for you or the alternatives that might be a better fit for your needs.
Key Takeaways
Drupal is a powerful and versatile CMS that can be used to create and manage websites and applications.
Whether you are a B2B or B2C business, a non-profit organization, museum, higher education institution, or government agency, Drupal offers the tools and features to create a successful online presence.
Drupal offers flexibility, cost-effectiveness and security.
Drupal has a steep learning curve and lacks direct support, making it difficult to use for inexperienced users; it is an optimal CMS for web developers to build a custom platform for your unique business needs.
Alternatives to Drupal include Wordpress and Joomla, drag-and-drop editors, proprietary CMS, and Headless CMS.
It is important to carefully consider the pros and cons of Drupal based on the unique needs of each business and website. Seeking the support of experienced Drupal Web Design and Development consultants can enhance your decision-making process.
References
https://trends.builtwith.com/cms/Drupal#:~:text=Get%20access%20to%20data%20on,websites%20in%20the%20United%20States